User menu
Click on the desired service for more information
Taking and delivery of your ironing or cleaning orders in your workplace
Washing of your car during office hours
Repair jobs and solution for your domestic problems
Wellness activities organised on the site of your company
Your zone has not yet been identified. Click here to search for your zone. You will then have access to all the activities available in your zone as well as to the programme and schedule.
How does the laundry service work?
First order your laundry packaging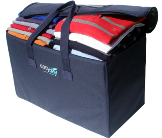 Before you can use our service you must order your laundry packaging (a bag and/or a cover).
If you wish to use only dry cleaning or ironing of shirts and trousers on hangers we recommend you to use a slip cover. In all other cases the bag is fine.
The packaging is reusable and needs to be ordered only once.
Next step
Take advantage of the Laundry service now
First order your reusable bag or slip cover
To use this service, you have to order a bag or slip cover here.